EGGS IN COOKING
Get to know the different faces of eggs!
Fried eggs
Carefully break an egg into a small bowl. Heat oil in a large (and preferably non-stick) sauté pan over medium heat. ...Or, flip the egg over and cook for an additional 10-30 seconds for over-easy eggs, or 30-60 seconds for over-medium eggs, or 1-2 minutes for over-hard eggs.The egg, after carefully breaking the shell - so as not to damage the membrane surrounding the yolk - is fried in hot fat, cutting off only the protein.

6 ways to boil an egg from soft to hard
1. 6 minutes: A liquidy yolk and soft white. This is perfect for eggs served in an egg cup.
2. 6 1/2 minutes: A soft, jammy yolk. This is my favorite for eggs on toast or soft boiled eggs on a salad.
3. 8 minutes: A soft yolk but firm enough to hold its own.
4. 10 minutes: The early stages of a hard boiled egg, with just a smidge of softness in the middle.
5. 12 minutes: A hard boiled egg with a lighter yolk.
6. 14 minutes: Your traditional hard boiled egg with the lightest yolk and a firm white, but not overcooked.

Omelette
For a basic omelette, crack the eggs into a mixing bowl with a pinch of sea salt and black pepper. Beat well with a fork. Heat a small knob of butter in a small frying pan on a low heat, and once melted and bubbling, add the eggs and move the pan around to spread them out evenly. When the omelette begins to cook and firm up, but still has a little raw egg on top, sprinkle over the cheese (if using). Using a spatula, ease around the edges of the omelette, then fold it over in half. When it starts to turn golden brown underneath, remove the pan from the heat and slide the omelette on to a plate.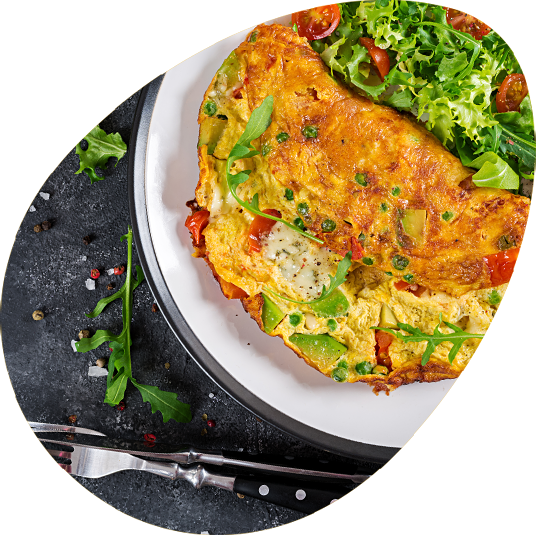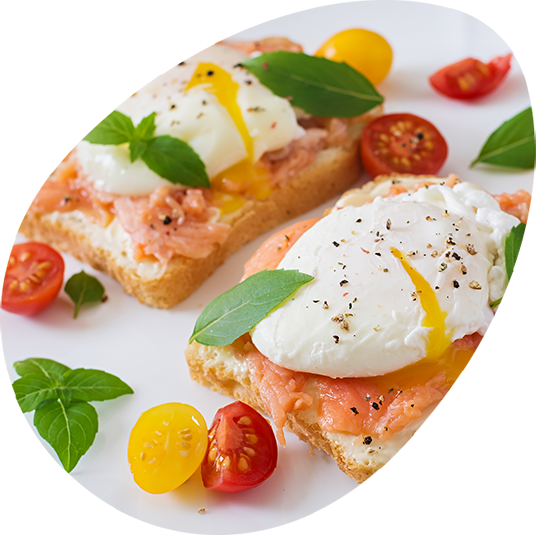 Poached eggs
Half-fill a wide pan with boiling salted water, and bring it to a light simmer over a medium heat. Crack one of the eggs into a cup and gently pour it into the water in one fluid movement. Repeat with the rest of the eggs. You'll see them begin to cook immediately – don't worry if the edges look a little scruffy. Depending on the pan, a really soft poached egg should take around 2 minutes and a soft to firm one will need 4 minutes (it depends on the size of the eggs and whether you're using them straight from the fridge). To check whether they're done, remove one carefully from the pan with a slotted spoon and give it a gentle push with a teaspoon. If it feels too soft (use your instincts), put it back and give the eggs a minute or two more in the water to firm up.
When they're ready, remove them to some kitchen paper to dry off and serve with buttered toast and a sprinkle of sea salt and black pepper.
Raw egg boiled 3-4 minutes in a solution of water and vinegar (100 ml of ten percent vinegar per 1 l of solution) to cut down the protein.
Egg salad
Hard-boiled eggs, peeled, ground, mixed with mayonnaise,( chive, or your favorite herbs ) for sandwich spreads. It tastes great also after adding tuna.
Polish Kogel-mogel
2 large egg yolks (pasteurized)
3 teaspoons honey (or 3 teaspoons sugar)
Optional: 2 teaspoons cocoa powder
Optional: Rum or vodka (to taste)
Whisk Egg yolk with honey/ sugar,. until creamy and thickened
Pickled eggs
Place eggs in a large pot and cover with cold water. Bring water to a boil and immediately remove from heat. Cover and let eggs stand in hot water for 10 to 12 minutes. Remove from hot water, cool and peel. Place the eggs into a 1 quart wide mouth jar.In a saucepan, combine the vinegar, water, salt, pickling spice, most of the onion (reserve a couple of slices), and black peppercorns. Bring to a rolling boil; pour over the eggs in the jar. Place a couple of slices of onion on top and seal the jars. Cool to room temperature, then refrigerate for 3 days before serving.
Hollandaise sauce
Ingredients
150 g unsalted butter
2 large free-range egg yolks
1 dessert spoon white wine vinegar
1 lemon

Get a saucepan and a heatproof mixing bowl that will sit stably over the pan. Half-fill the pan with water and bring to a simmer. Turn down the heat as low as it can go but still have the water simmering. Place the butter in a medium pan over a low heat, so it starts to melt but doesn't burn. When the butter has melted, take it off the heat. Place the egg yolks in your heatproof mixing bowl, which you should then place over the pan of just-simmering water. It's important that the saucepan is on a low heat, or the eggs will scramble. Using a balloon whisk, start to beat your eggs, then whisk in your white wine vinegar. Keep whisking, and then start adding the melted butter by slowly drizzling it in, whisking all the time, till all the butter has been incorporated. The result should be a lovely, smooth, thick sauce. Season carefully with sea salt and black pepper, and loosen if necessary with little squeezes of lemon juice. Keep tasting the sauce until the flavour is to your liking.

Stuffed eggs
After your eggs have boiled and cooled, slice your eggs in half lengthwise, scoop out the yolk to a small bowl, smash it with a fork and place the egg white on a serving tray.To the egg yolk add mayonnaise, Dijon mustard, apple cider vinegar, salt and pepper and stir it all together until creamy. Use a small spoon to scoop out some of the deviled egg mixture and place it back into the egg white. Sprinkle a little hot paprika on top